INVITATION FOR CHARITY CHRISTMAS BAZAAR AND CONCERT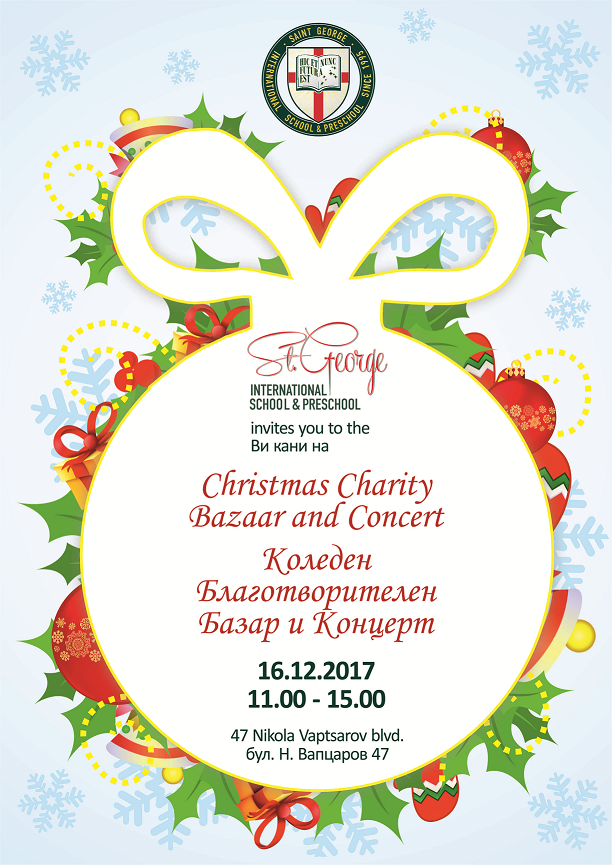 Dear friends,
This year almost imperceptibly came to an end. With its end drawing near, comes the time for celebration, when students, parents and teachers will share the emotions and warmth of the brightest Christmas holidays.
Welcome to our traditional Charity Christmas Bazaar and Concert, which will take place on 16.12.2017 (Saturday) from 11.00 until 15.00.
Please feel welcome to invite your friends and family to join the party and to contribute to this year's causes. They are the following:
Purchase basic necessities for people with disabilities from the Center for Social Integration and Rehabilitation in Sofia;
Collect funds for a summer rehabilitation camp for orphan children with severe physical disabilities from the Family Type Accommodation Center in Veliko Tarnovo.
The talented children and students will come on stage to brighten our mood.
Both teachers and students have prepared special workshops and will demonstrate how much they have learned. They will bring all visitors back in time to their own school days, so as to recall or learn something new about the world of science, languages, the arts, mathematics, technologies, sports, etc.
We are looking forward to sharing the Christmas spirit together!