St. George International School & Preschool students celebrate their first IGCSE Results
Grade 9 and 10 students have received their final IGCSE results from Cambridge International Education and EDEXCEL.
Grade 9 students had the chance to sit examinations in either Russian or German, one year earlier than typical, whereas our Grade 10 students sat examinations in English as a First Language, Maths, Biology, Chemistry and Physics passing the first milestone in their high school education.
IGCSE's are the world's most popular international qualification for 14 to 16 year olds. They are recognised by leading universities and employers worldwide, and are an international passport to progression and success.
The IGCSE grading system runs from A* to G, with A* being the very highest, and C being a good pass. A minimum of 5 A*-C grades including English First Language, Maths, and at least two Science subjects is considered the core standard to progress on towards A-Levels studies, and is also considered evidence of key skills which contribute towards university application in place of other admissions exams such as IELTS.
The graph below compares our results against the rest of the world, with SGIS exceeding the world percentage of student's achieving A*-C, and in some subjects achieving the very best grades possible in their subjects.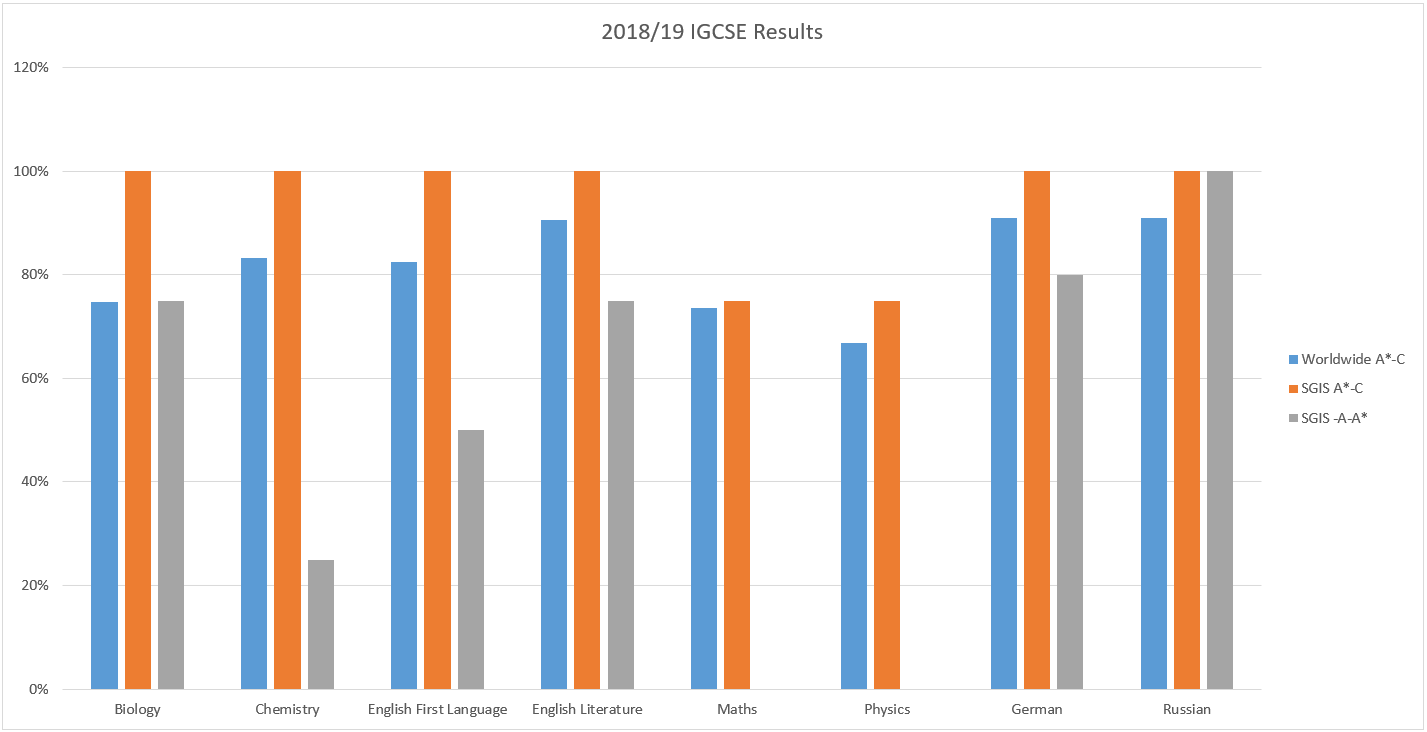 Our Grade 11 students now progress on towards their A-Level studies in English Literature, Biology and Mathematics, alongside their Matura studies, while our Grade 10 students seek to improve upon the results of their peers when their turn arrives to sit their IGCSEs in May 2020.
Over the next two years our students will receive careers advice alongside the help and assistance they need in order to make an informed decision regarding their future, providing access to the best universities in the world.
Would you like to see how you compare to our students? If so, past papers and mark schemes are available on the Cambridge International Education website, or via the links below. Let us know how you do!